Discovery Talks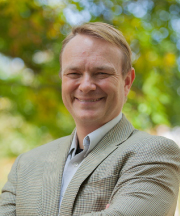 The Challenge of Training Graduates to Address Global Food Security by Dr. Evan Fraser, Director, Arrell Food Institute, University of Guelph
One of the most pressing challenges facing the 21st century is how to feed the world's growing population. The statistics are scary: humanity will need 70% more food by 2050. At the same time, we must acknowledge that we already produce enough, yet there are 2 billion overweight people on the planet while 800 million struggle with under-nourishment. We also do not produce enough fruits and vegetables for us all to enjoy a healthy diet and we waste about 1/3 of the world's food. This suggests that what we produce, how we produce it, and the way food is distributed are all as important as simply producing more. Meeting this challenge is inherently interdisciplinary and requires a new approach to training the next generation of ag-food leaders. To meet this challenge the Arrell Food Institute at the University of Guelph is piloting a new experiential education program aimed at creating new graduates who have both a rigorous technical background but also a deep appreciation of sustainability and equity as well as the so-called soft skills of teamwork, project management, and social innovation.
PDF – Evan Fraser – AIC 2018 Presentation
Speaker2-Evan-Fraser-AIC2018-.pdf

Future Agriculture Graduates in a Future CFIA by Dr. Jonathan Morgan, Manager, Professional and Technical Development Section, Canadian Food Inspection Agency
The work of CFIA inspectors is evolving, as is the role of the Advisory Community (Policy & Program, Operational Guidance and Science Advice). In order to fulfill its mandate, the CFIA will continue to require BSc Agr and higher-level graduates who possess the technical knowledge in their respective areas of interest: animal science, field crops, plant science, etc. The CFIA employees of the future will also have to demonstrate an ability to adapt easily, think critically, solve problems, work as a team, communicate to diverse audiences. Strategic Workforce Planning and a competency based training framework are two of the tools that the CFIA will employ to help reach its goals.
PDF – Jonathan Morgan – AIC 2018 Presentation
Building a Culture of Science in Ontario by Dr. Molly Shoichet, Ontario Chief Scientist, Canada Research Chair in Tissue Engineering, University of Toronto
According to a recent Ontario Science Centre survey, about four in 10 Canadians think science is a matter of opinion. A further one-third of Canadians would call themselves scientifically illiterate. Dr. Molly Shoichet hopes to change that. The professor and biomedical engineer known for her work in tissue engineering added a new role to her CV in early 2018: Ontario's first Chief Scientist. Working out of the Ministry of Economic Development and Growth / Ministry of Research, Innovation and Science, Shoichet's mandate spans across the Ontario government and aims to both promote a culture of science within the provincial government by enhancing the use of the scientific method in policy decision-making and to promote the advancement of science externally by looking at how government activities can be used to advance Ontario's research and science engines.
Forum Presentations
Engaging New Graduates in Ontario Agri-Tech: Findings from Bioenterprise's 2018 Pilot Program by Jessica Bowes, Manager, Business & Technology, Bioentreprise Corporation
Bioenterprise's New Graduate Employment & Mentorship Pilot Program was designed to assist new graduates enter the various sub-sectors within agri-tech and gain experience within the value-chain, while supporting and enabling innovation in Ontario by supporting business expansion activities. This presentation focuses on highlighting objectives, processes, and outcomes of the program.
PDF – Jessica Bowes – AIC 2018 Presentation
Speaker-2-Jessica-Bowes-AIC-2018-PPT

Helping Students Learn about Future Careers in Agricultural Science by Dr. Tom Jensen, P.Ag., Director, North America, International Plant Nutrition Institute

The agriculture industry has a need of well trained young people to take over positions as the present working generation retires. There are excellent careers available as agricultural scientists, agronomic crop advisors, and trained technicians. One challenge we have in our society is that a greater proportion of children are raised in urban centres where they have had little contact with agriculture in general. Many of these youth are interested in science, but don't consider working in agriculture, mostly because they have little knowledge about it. How do we reach and educate youth to consider a career in agricultural science?
PDF – Tom Jensen- AIC 2018 Presentation
From Education to Practice in the Public Interest by Terry Kingsmill, P.Ag., President, Kingsmill & Associates: Regulatory & Association Management
The future of agricultural and environmental practice will continue to evolve toward enhanced public accountability, credibility and trust.
PDF – Terry Kingsmill – AIC 2018 Presentation