International Agricultural Development Program
Since 1989, the AIC has provided voluntary opportunities for its Canadian Members to work cooperatively and share expertise with partner profession organizations in developing countries through the International Agricultural Development Program (IADP). The IADP provides a valuable opportunity for AIC Members to share their expertise, learn about development issues and make a significant contribution to improving the lives of farmers and their families
AIC's International Program holds the following key goals:
Increase food security, alleviate poverty, secure livelihoods, improve land and water conditions, and advance strategies that mitigate and adapt to climate change for small scale farmers and their families in developing countries.
Optimize the involvement of AIC members
Provide opportunities for professional and personal development
Increase global visibility of AIC, its members, and projects within the international agricultural development community.
Partnership Program
AIC's partnership program works closely with rural communities in building collaborative relationships and developing viable and sustainable solutions to issues faced by farmers and their families. Program achievements are presented in the Final Report and Executive Summary for the AIC International Twinning Partnership Program, which received financial support through the Canadian International Development Agency
Gender Equality
Throughout its history, AIC's International Partnership Program has included a gender equality component, most recently with the key objective of "women as active participants and beneficiaries of agricultural endeavours". Access Gender Equality Programming Resources Including The GEM of The Month Digest.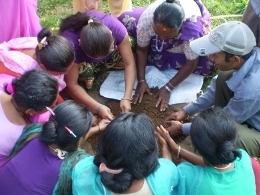 Environmental Sustainability
AIC recognizes that sustainable human relationships with the environment are fundamental to successful endeavors in agriculture. In order to ensure environmental concerns are acknowledged and positively addressed, a comprehensive and integrated environmental analysis is utilized amongst all projects. In response to scientific predications of climate-induced food shortages, the AIC Climate Change Task Team (ACT2) was convened in 2009. The goal of ACT2 is to ensure that appropriate and sustainable responses to climate change are made throughout AIC's international projects.